A nice desk item that is versatile and unique. The business card holder and frame serve a dual purpose. Available in Rosewood or Cherry Wood finish. Can be laser engraved with your company logo or message.
Dimensions: 4" x 2 3/4" x 3 3/4"
Imprint Limit: 2 1/2" x 1 1/2"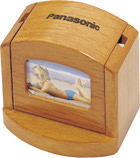 Pictured with optional imprint engraving