Recognize great efforts with an award that is equally outstanding. The Aim High Award is a unique mix of media whose vertical aluminum rods reach for the stars. Crafted of jade crystal and wood that is lacquered with black and silver metal-flake, this design is a celebration of recent endeavors as well as an optimistic nod towards the future. For aesthetics we recommend etching your award inscription and positioning your logo as shown. A romance card elaborating on this theme is included for your presentation.

Available in two sizes

Deep Etch

Overall Size: 11 1/2" H x 4 1/2"W
Max Etch Area: 4"H x 2"W


Also Available: 13"H x 4 1/2"W
Max Etch Area: 5"H x 2"W


Gift Box: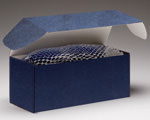 This gift box will enhance your award in a way that standard brown or off-white corrugate cannot approach. Each award is wrapped in blue tissue then over-wrapped with a decorative honey-comb wrap that insures the safe arrival of your award. The bleach white (not off-white) interior brightens the contents while coordinating with the overall designer look. Note that some of our awards have platform inserts verses the tissue and honeycomb wrap shown.