Crystal star shape paperweight features clean crisp lines. Perfect as a gift or an award for outstanding achievement. It's crystal clear, out star paperweight has true stellar qualities. It's slanted top will display your logo or message for all to see. Packed in our patented presentation box. Optic crystal is machines made. No imperfections. Dimensions may vary slightly. All planes are highly polished. Pure and colorless. Excellent clarity and sparkle. Exceptionally heavy.
Deep Etch
Overall Size: 4" x 4"
Max Etch Area: 1 1/4"H x 1 1/4"W
Gift Box: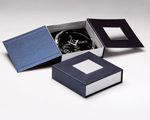 The patented designer gift box has a self-locking system as just one of its many attributes. The two-toned exterior boasts blue and silver laminates, while the bottom interior is lined in black velour for maximum impact of your logo. Guaranteed to enhance the perceived value of your selection, a finer gift box simply does not exist.