With a theme of stars, this curved, beveled, and free standing award made of bent glass will inspire a super star. Made from jade crystal, and will be proudly displayed by all recipients. Available in two sizes.
Deep Etch
Overall Size: 7 3/4" H x 9" W
Max Etch Area: 4 1/2"H x 6 1/2"W
Also available: 9"H x 10 3/4"W
Max Etch Area: 5 1/5"H x 7 1/2"W
Gift Box: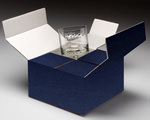 This gift box will enhance your gift in a way that standard brown or off-white corrugate cannot approach. The bleached white (not off-white) interior brightens its contents while insuring that your gift arrives safely.