Few things carry symbolism as does the mountain. Challenge. Strength. Endurance. The journey and the destination captured in a single glance. Designed to express these emotions, this award answers to those seemingly capable of moving mountains. Cut from Starphire Crystal, the Pinnacle is held in place by its easel and chrome-plated sphere.

For aesthetics we recommend reverse-etching your award inscription and positioning your logo as shown. A romance card elaborating this theme is included for your presentation.

Available in two sizes

Deep Etch

Overall Size: 7" H x 4"W
Max Etch Area Logo: 1 3/4"H x 3"W
Max Etch Area Copy: 2 1/4"H x 2 1/4"W

Also Available: 9"H x 4"W
Max Etch Area Logo: 2"H x 2 1/4"W
Max Etch Area Copy: 3"H x 3 1/4"W

Gift Box: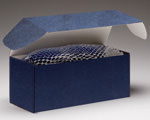 This gift box will enhance your award in a way that standard brown or off-white corrugate cannot approach. Each award is wrapped in blue tissue then over-wrapped with a decorative honey-comb wrap that insures the safe arrival of your award. The bleach white (not off-white) interior brightens the contents while coordinating with the overall designer look. Note that some of our awards have platform inserts verses the tissue and honeycomb wrap shown.